Seamingly many features within one configuration page. This is because they all refer to options that can be find in the postboxes across PeepSo plugin.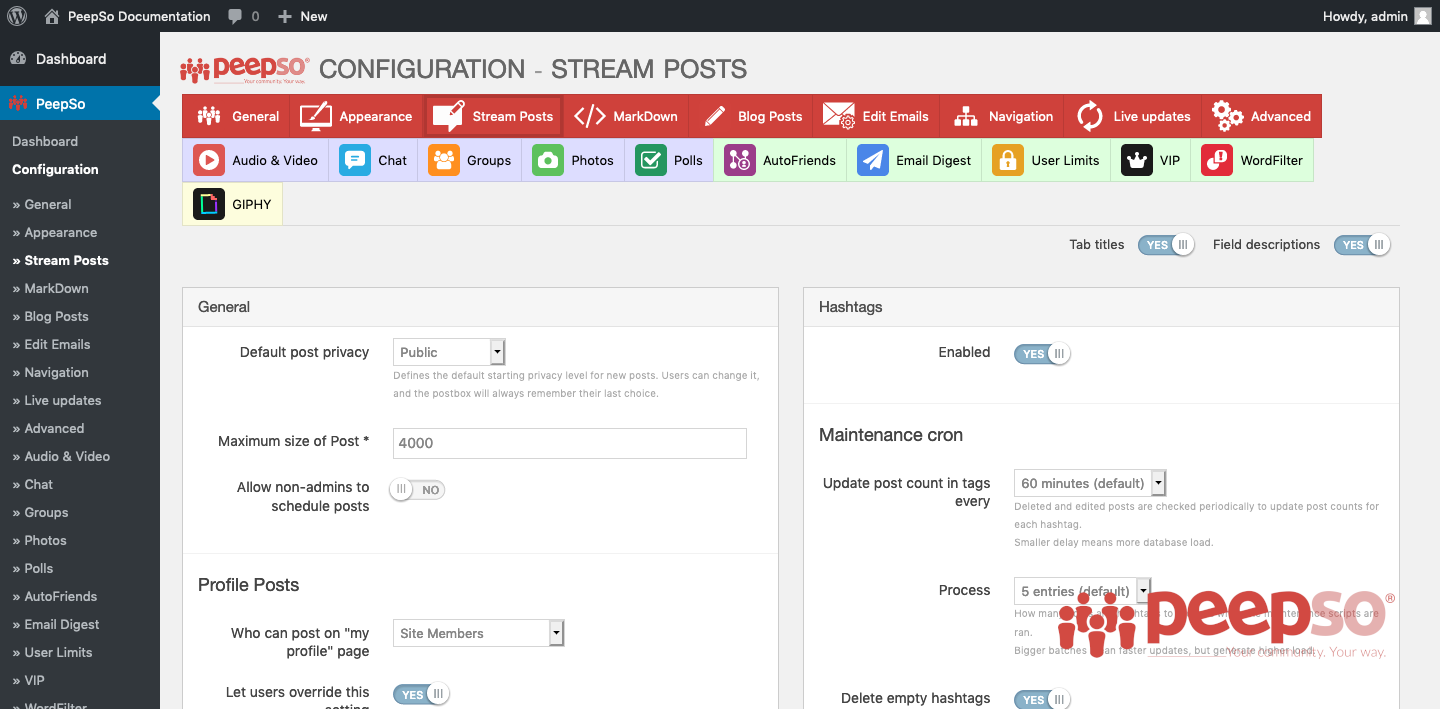 The entire page is divided into five (5) different panels
General
Location
Moods
Tags (@mentions)
Hashtags
1. General Panel
Default post privacy – Defines the default starting privacy level for new posts. Users can change it, and the postbox will always remember their last choice.

Public: Visible to everyone with the link
Site members: Visible to all members.
Friends: Only friends can see your post.
Only me: No one else can see on your post.

Maximum Size Of Posts – Limit the size of the posts in characters.
Allow non-admins to schedule posts – When enabled, this setting will allow every member of community to schedule post
Profile Posts
Who can post on "my profile" page – Here you can choose who can post on your profile stream. There are 3 options:

Site members: Every member can post on your profile
Friends: Only: friends can post on your profile
Only me (Profile owner): No one else can post on your profile.

Let users override this setting – The options are Yes or Not.
2. Location Panel
To enable location integration, you must enable it and provide Google Maps API key
3. Moods Panel
To allow moods in the posts that your users will create, the option to enable moods must be enabled
4 Tags (@Mentions) Panel
Tagging or Mentioning people in the community will only when this feature is enabled from this panel.
5. Hashtags Panel
Enabled – When enabled users are able to post hashtags on a post.
Update post count in tags – Deleted and edited posts are checked periodically to update post counts for each hashtag. Smaller delay means more database load.
Process – How many posts and hashtags to process in a single page load. Bigger batches mean faster updates but generate higher load.
Delete empty hashtags – When enabled, hashtags with zero posts will be deleted and not shown in the widget or suggestions. Hashtags with zero posts can occur when posts are deleted or edited.
Allow non-alphanumeric hashtags – This feature is currently in BETA and should be used with caution. Enables hashtags of any length, with any content, including non-alphanumeric characters (Arabic, Japanese, Korean, Cyrillic, Emoji, etc). Hashtags MUST end with a space, line break or another hashtag.
Minimum hashtag length – Minimum hashtags length, shorter hashtags will be ignored
Maximum hashtag length – Maximum hashtags length, longer hashtags will be ignored
Hashtags must start with a letter – Enabled: hashtags beginning with a number will be ignored
Reset and rebuild the hashtags cache – Enable and click "save" to force a hashtag cache rebuild. It will also happen automatically after changing any of the hashtags settings.