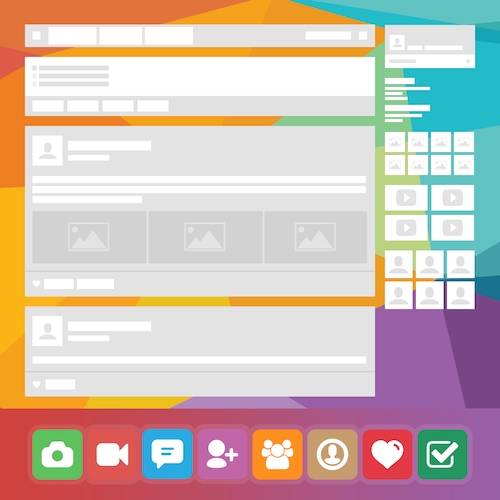 PeepSo Core Plugins
---
These plugins are an essential part for every community. Sharing Photos, Videos, sending messages via Chat, Friend connections, Groups, Extended Profile Fields, Reactions on posts with more than a simple like and Polls to ask for Your Members' opinions.
Each of these plugins is just $19. Get them all and save $20 on a single purchase.
Friends
Friend connections and "friends" privacy level. Creating connections is at the core of every community. Friends plugin lets your members add friends, accept or decline friend requests, and set their post privacy to "Friends Only." It's essential! Friendship relationships are what keeps people coming back to the community.
Add Friends
Let your users create friend connections.
Mutual Friends
When looking at members listing you can see who's a mutual friend.
My Friends Widget
Shows users latest friends. When placed in 'PeepSo' widget position it shows friends of that particular user whose profile you're visiting.
Friends Birthday Widget
Shows upcoming friends birthdays and birthdays on the day.
Email Notifications
Users get email notifications about pending friend requests.
Tag Friends
With Tags plugin users can tag their friends in Status Updates
Get Friends Plugin
Get Friends Plugin for Your Community!
Photos in Status Posts
Upload Photos to Status Posts, Profiles and Groups
Photo Albums
Create Photo Albums in User Profiles and Groups
.Gif support
Users can upload moving .gif files to Status Updates and in Comments
Amazon S3
Photos plugin comes with a built-in Amazon S3 Integration
Photos in Comments
Upload Photos to Comments under Posts
Photos in Chat
Users can upload photos in Chat conversations.
My Photos Widget
Shows users latest photos. When placed in 'PeepSo' widget position it shows photos of that particular user whose profile you're visiting.
Community Photos Widget
Shows latest photos of your entire community (photos show respecting their privacy settings).
Status Updates
Optional automatic status updates when a user changes avatar or cover images.
Get Photos Plugin
Get Photos Plugin for Your Community!
Photos
Upload photos and create albums in profiles and groups. Photos is a "must-have" plugin that lets members upload images to the Stream, Groups, Messages and Chat. It invigorates communities with pictures that people love to see and share. When clicked, the photos open in a modal window allowing members to comment, like and show them to their friends.
The plugin also adds a Photos tab to profile pages and to Groups. It comes with 2 widgets: My Photos and Community Photos that admins can place anywhere. Profile Photo Albums, Groups Photo Albums, .GIF support and many more!
Videos
Link videos from WordPress supported providers. Videos plugin allows members to add video links to the stream. The videos show in a wide display for easy viewing. Members can comment, like and share the videos, generating engagement and interaction.
The plugin also puts a Videos tab on profile pages that displays all the videos the member has uploaded, and adds a widget that shows My Videos on members' profiles. It comes with 2 widgets: My Videos and Community Videos.
Share Videos
Share videos to User Profiles and Groups
My Videos Widget
Shows users latest photos. When placed in 'PeepSo' widget position it shows videos of that particular user whose profile you're visiting.
Supported Providers
Videos plugin supports all major providers like: YouTube, Vimeo and others.
Community Videos Widget
Shows latest Videos of your entire community (videos show depending on their privacy setting).
Get Videos Plugin
Get Videos Plugin for Your Community!
Real-time Chat
Chat works real-time. Always.
Resource Friendly
Chat has been optimized for minimal server usage.
Email notifications
Users will be notified by email when there's a message waiting for them.
Group chat
Chat and Messages work with one-on-one or group conversations.
Get Photos Plugin
Get Photos Plugin for Your Community!

Chat
Communicate via private messages & real-time chat. Every community needs a convenient way for members to message each other privately. This plugin adds private messaging and also the possibility to create private group messages between many members.
Chat works with other popular plugins. If Photos, Location and Moods are also installed, members will be able to add pictures, location, and mood to their messages.
Create Groups
Let Your Community create groups for focused discussions.
Group Invitations
Invite users to groups.
Group Notifications
Groups come with their own set of notifications regarding posts and user actions like invitations.
Photos and Albums
With Photos Plugin you can create Photos and Photo Albums in Groups.
Location
With Location Plugin users can share location in Group Status Updates
Tags
With Tags Plugin users can tag other group users in Group Status Updates and comments
Privacy
Open and Closed groups can be created.
Add users to group
Community Admins can add users to groups.
Group Categories
Assign groups to specific categories.
Videos
With Videos Plugin you can share videos in groups.
Moods
With Moods plugin users can set their mood on Group Status Update
Get Groups Plugin
Get Groups Plugin for Your Community!
Groups
Open and closed user groups. GroupSo plugin allows your community to create groups. Communities, especially those revolving around a general topic, groups are a very useful tool. They allow your users to focus on a particular thing. There are open (public) and closed groups available at this time.
People being part of groups also have a tendency to feel more 'at home' with the exact focus they're looking for.
Extended Profiles
Extended Profiles plugin lets admins place additional fields on user profiles to create richer, more meaningful profile pages. Creation of the fields is completely 'ajaxified'.
Everything is done on the same page without the need to save and refresh. On the front end, the user can also edit their profile fields smoothly and seamlessly.
Customize Default Fields
Customize default PeepSo Core fields, for example you can add more gender options.
New Field Types
Multi select, Single select, Email, Date, Text, URL
Registration
Customize your own registration form with Custom Profile Fields.
Fields validation
Depending on the field type there are various validation options.
Required Fields
Decide which fields are required and which are optional.
Location Fields
With Location Plugin you can add unlimited number of location fields to user profiles.
Separators
Those fields allow you to divide fields into meaningful groups of fields.
Privacy
Set default privacy to profile fields, allow or disallow changing it to users.
Reorganize as you wish
Reorganize profile fields to your liking all with a simple drag and drop.
Get Extended Profiles Plugin
Get Extended Profiles Plugin for Your Community!
More than 'like'
Add custom reactions to your community so they can react appropriately to Status Updates
Your Own Reactions
Upload your own custom image – .PNG, .SVG or even an animated .GIF
Name Reactions
Create your own custom reaction names.
Default reactions
Built-in set of Reactions – immediately ready to use.
Onsite Notifications
Customize Reaction notification text.
Email Notifications
Plugin hooks in email notifications and adjusts according to chosen reaction.
Get Reactions Plugin
Get Reactions Plugin for Your Community!
Reactions
Say more than a thousand Likes. This plugin extends the regular Likes on stream posts with emotional Reactions such as Love, Laugh, Wink and much more.
It features a built-in set of Reactions with a robust admin panel that lets you customize everything.
Polls
Post a question for others to vote. Polls plugin allows you and your community to create polls in posts. The polls can be placed in the main activity stream, in users' profiles and even in groups.
Users can cast their votes once per poll. The design is sleek and simple, and because it's fully responsive, it looks great on mobile as well as on desktops. Logged out users see the polls on posts, but can't vote or see the poll results. They are prompted to login to vote and see results. With the use of User Limits plugin you are able to decide which users can create Polls on your community.
Who can create Polls
Admins can decide whether regular users can create Polls
Single Select Polls
Let users create polls with a single select options.
Multi Select Polls
Let users create polls with a multiple select options.
Polls results
After casting a vote users can see the poll results.
Ask away everywhere
Polls can be attached to User Status Updates and added to Group Status Updates
Get Polls Plugin
Get Polls Plugin for Your Community!
Get All Foundation and Core Plugins
Purchase every Core plugin to get a huge discount!
Get to know other PeepSo Plugins
{"dots":"false","arrows":"true","autoplay":"false","autoplay_interval":"3000","speed":"300","design":"prodesign-5","rtl":"false","loop":"true","slidestoshow":"3","center_padding":0,"slidestoscroll":"1","centermode":"true"}